Influencer and model, Mary Magdalene, is famous for her giant breasts, and the ample plastic surgery she has had over the years. You might remember her from a separate incident that saw her hospitalized after having a procedure done on her lips. In more recent news, she had intended to fly from Canada to Dallas but never made the flight. The attendants working the flight had asked her to leave, and she claims it was because of her large breasts.
Instagram Model Kicked off Flight
Firstly, the Canadian Instagram model is obsessed with plastic surgery. She has had several procedures done including multiple boob jobs and ample lip fillers. Mary recently made headlines when she experienced a health scare after yet another lip-filling ordeal. She wanted her lips to never close, and she got what she asked for.

Mary was flying from Canada to Dallas one day, but she never made it to the lift-off. The aircraft's attendants had asked her to leave before the plane had left the runway. Mary is convinced that she got kicked off because the flight officials thought she has not dressed appropriately. She thinks the airline discriminated against her for wearing a top that was too small for her large breasts, however, in a follow up the airline claims this isn't true. She spent a lot of money on her surgeries, so she decided to sue the airline for discrimination.
Advertisement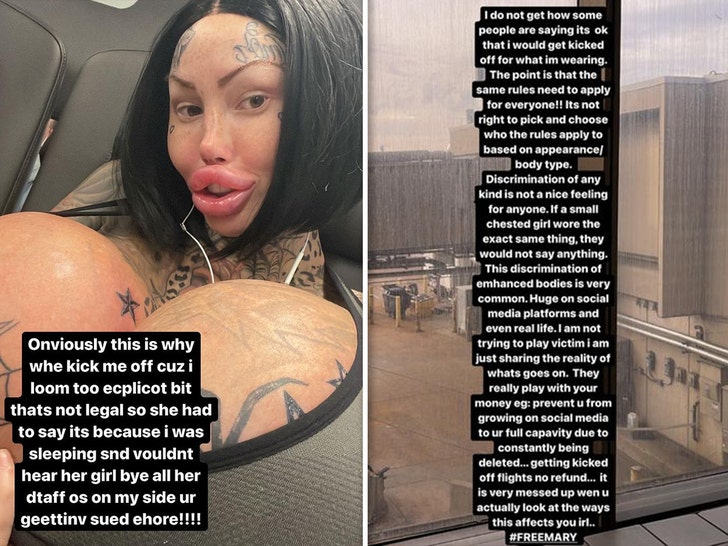 Airline Disagrees with Influencer
So, the airline that Mary Magdaline nearly flew with recently on a flight from Canada to Dallas does not share the same reasoning. Mary attests that they asked her to get off the flight because her outfit was "too explicit," but the airline says otherwise.
Advertisement
Before the flight took off, all the passengers were boarding. Usually, each person gets a specific seat to sit on, and the rule of thumb is to stick to that allocated seat. The flight attendants said that they kept seeing Mary getting up and moving to a different seat. This is against the rules, but Mary kept moving seats. Not only this, but it was claimed that she was also wearing headphones, and she repeatedly ignored the attendant's instructions.

The attendants had said that she seemed intoxicated with alcohol, but it is not clear whether or not that is true. However, a video of Mary was taken at the airport holding an extra-large cup.

Read: 24-year-old woman with 'biggest lips' in the world has spent $5,000 on fillers and still wants to go BIGGER
Advertisement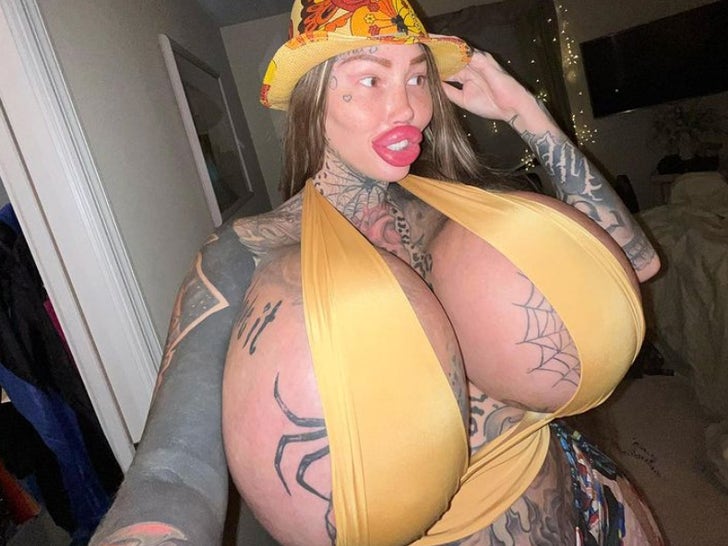 The flight attendants did not throw her off the plane either. They, along with the captain of the flight, asked her to leave. She reportedly obliged quite civilly to their requests and left without causing a fuss. The authorities like the air marshals did not have to get involved.

Mary says this ordeal was not fun. According to her, it was dehumanizing and disgusting. She has announced her wish to sue American Airlines. The flight attendants had said how they were suspicious of her because she kept changing seats and seemed highly intoxicated and "unstable."
Advertisement
Instagram Influencer Feels Discrimination
Mary Magdalene posted on Instagram: "I was kicked off the flight for how I look. Please stop discrimination, please this is disgusting. I feel so embarrassed and dehumanized right now, you guys have no idea. Obviously [my outfit] is why she kicked me off because I look too explicit. But that's not legal so she had to say it's because I was sleeping and wouldn't hear her."