Sinkholes have been discovered all across the globe. Sometimes they happen over a long period of time, and sometimes they occur suddenly. Consequently, the ground quite literally collapses. On July 30th, a sinkhole was discovered in a mining area in Chile which has led to an investigation. The aim is to find how it formed, and whether or not it will continue sinking.
Sinkhole investigated by scientists
The sinkhole was discovered near the commune of Tierra Amarilla, which is located in the Atacama Region of Chile not too far from from a a copper mine.. After its discovery the local mayor, Cristobal Zuniga, addressed the media and gave a report:

"Yesterday [Saturday, 30 July] we received a citizen complaint regarding a sinkhole that would have occurred here in our community near the Alcaparrosa mine. We are concerned, since it is a fear that we have always had as a community, the fact we are surrounded by mining deposits and subterranean works under our community. It is still active, it is still growing and it is something that has not previously been seen in our community."
Initially, the sinkhole is reported to be 25 meters, or 82 feet, in diameter. However, further analysis revealed it was actually around 105 feet or 32 meters. To put that into perspective, that's bigger than an NBA basketball court – by 11 feet!
Work was suspended
The mine is run by a company called Lundin Mining Corporation. According to them, no one was hurt when the sinkhole sunk. Likewise, no equipment suffered any damage. They confirmed with the media and that all mining is suspended until further notice.
"Upon detection, the area was immediately isolated and the relevant regulatory authorities notified. There has been no impact to personnel, equipment or infrastructure," said Lundin Mining Corporation. "The surficial sinkhole has remained stable since detection. Minera Ojos del Salado is conducting a technical analysis and gathering information to determine the cause of the event." They also added that "the area was immediately isolated and the relevant regulatory authorities notified."

Read: Cavers Reached the Bottom of an Ancient 'Well of Hell' For the First Time
Other famous sinkholes
Sinkholes are not a new phenomenon. They have occurred all around the world, and each one sparks a sense of curiosity. Some sink holes form in the ocean, which are known as Blue holes. Some sinkholes have become famous attractions that pull in tourists from around the world.

Arizona is the home to the Montezuma Well, an ancient prehistoric sinkhole. Between 12 and 15 thousand years ago a limestone cavern collapsed forming the well. It is now 17 meters deep and produces more than a million gallons of water every day.
There is a series of sinkholes in the Israel Dead Sea. In this case, the sinkholes are not formed naturally, and climate change has a contribution. The Dead Sea has seen over 1000 sinkholes form over the last 15 years. As a result of the water levels dropping, the salt deposits found beneath the shoreline fuse with the fresh water. This causes the ground to collapse.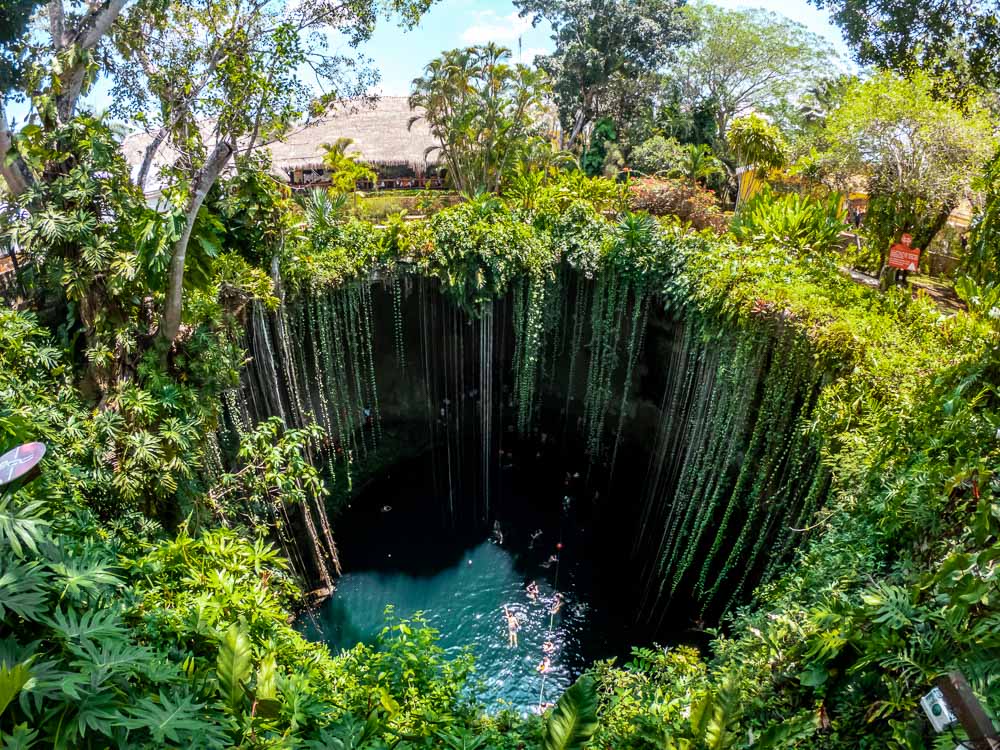 Some sinkholes are most beautiful to look at. Like the one found in Mexico near the Ruin City of the Mayans, Chichen Itza. In short, the sinkhole is called Ik-Kil and it is measured at 197 feet in diameter, and 131 feet in depth. Plant and animal life thrive inside this geothermal sinkhole, while tourists and locals enjoy swimming in the blue waters below.

Keep Reading: Huge Ancient Forest World Discovered 630 Feet Down in a Sinkhole
Sources