The world we live in today is so different from what I remember as a child. Everything technological advances, to laws and rights changes. Gender, in particular, has been a hot topic this past year or two. Along with that, many voices have arrived, letting us all know how they wish to be identified. More recently, the topic of emojis and their lack of diversity has come up. While it may seem trivial to you, having a Chinese man, Indian woman, or even a pregnant man Emjoi might be very important to someone else. As for the pregnant man emoji, this is on the cards for a recent change, thanks to recent scrutiny that currently available emojis were not sufficiently inclusive. Recently, Emojipedia released its list of proposed Emjoi designs. They say that the purpose is to; "recognize that pregnancy is possible for some transgender men and non-binary people" and we think it is a pretty awesome idea!
Voters choose new emoji's
As previously mentioned, the list of new emojis includes some new designs that people will either find controversial or diverse. However, the list has not yet been finalized by the Unicode Consortium. If you are wondering what the Unicode Consortium is, it is a nonprofit organization that oversees emoji standards. Every September, the group approves new Emoji's, and then allows them to roll out on various devices.
Advertisement
So, recently, a poll helped to determine which of the newly proposed Emoji's were top pics of the public. The poll took place on "World Emoji Day". About 15,000 people voted and, the Pregnant Man Emoji made it to number six. Here are the top ten newly proposed Emoji's, as voted for:
Advertisement
Melting Face [13.7% of the vote]

Face with Peeking Eye [10.2% of the vote]

Saluting Face [9% of the vote]

Heart Hands [8% of the vote]

Biting Lip [7.9% of the vote]

Pregnant Man [5.3% of the vote]

Face Holding Back Tears [5% of the vote]

Hand with Index Finger and Thumb Crossed [4.8% of the vote]

Face with Open Eyes and Hand Over Mouth [4.4% of the vote]

Bubbles [4.1% of the vote]

World Emoji Awards
The pregnant man emoji makes waves
Back in April, the Unicode Consortium stated that there would be a slight delay this year. According to a statement from Mark Davis, president of the Consortium:
Advertisement
"Under the current circumstances we've heard that our contributors have a lot on their plates at the moment and decided it was in the best interests of our volunteers and the organizations that depend on the standard to push out our release date. This year we simply can't commit to the same schedule we've adhered to in the past,"

Mark Davis
In case you are wondering exactly what the proposed new pregnant man emoji will look like, here you go! of course, he will be available in various skin tones and ethnicities! And, what is more, the chief emoji officer at Emojipedia has stated: "Nearly all emojis can have default a gender-neutral option, with the choice to use a woman or man where relevant.' How awesome is that? Let us know in the comments what you think about the possible new pregnant man emoji!
Advertisement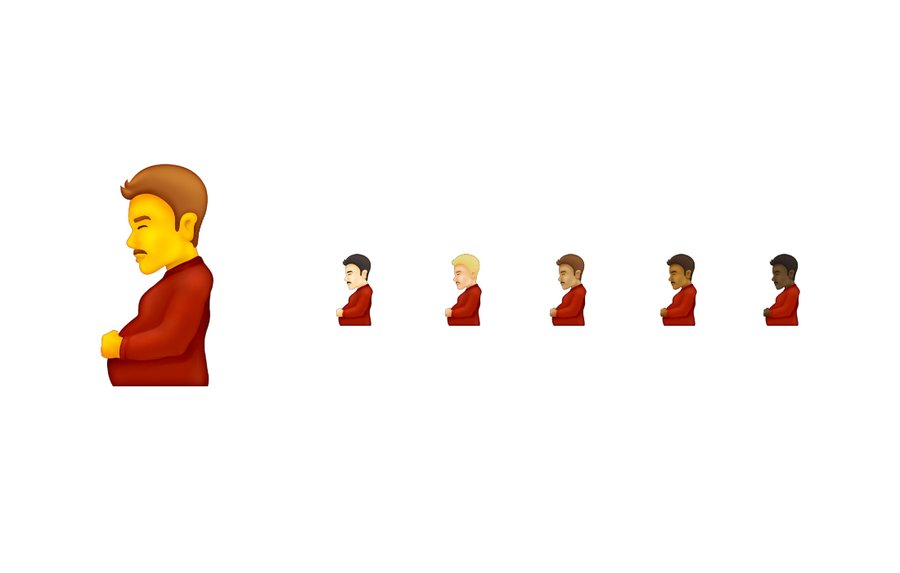 Advertisement