The covid-19 pandemic has put a strain on everyone. Each of us has been affected, one way or another. Some have sadly been affected a lot worse than others. However, that does not excuse foolish behavior. It does not excuse breaking rules, and it does not mean you can put other people at risk. That's exactly what this woman discovered; she even had her passport seized for her silly act!
Influencers put others at risk and have passports seized
Josh Paler Lin and Leia Se thought they would film their bright idea while at a store in Bali. Josh, in charge of filming, watched as Leia sauntered around the store without a face mask on. Instead, she had a mask painted on, in an attempt to fool other shoppers. Her painted-on mask was made to look just like the popular blue surgical masks. It even had white lines painted on to make it look like she had it hooked around her ears.[1]
Advertisement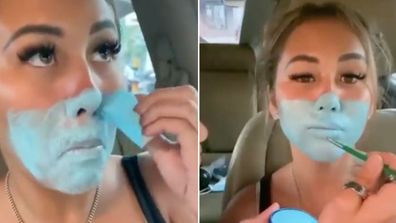 After posting the video online, the pair received plenty of backlash. People referred to them as morons for putting others at risk. Thanks to their video going viral, Indonesian immigration had their passports seized. Leigh is a Russian national, and Josh is a Taiwanese national. Immigration also confirmed that they might be deported. And with good reason, we think! It's never okay to put others at risk, especially just for a viral video.[2]
Advertisement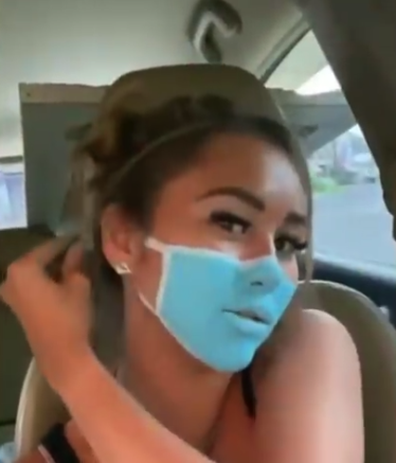 The head of Bali Civil Service Police, Dewa Nyoman Rai Dharmadi, says they plan to encourage the deportation of the pair. Both Josh and Leia have violated the rules. According to I Putu Surya Dharma, a spokesperson from the regional office for the Ministry of Law and Human Rights, the pair will both be examined by Immigration, who will then decide whether or not they will end up being deported. Their passports have been seized, and Public Order Agency (Satpol PP) officers will be questioning the two of them.[2]
Advertisement
"They are not only violating, but deliberately provoking in public, so it's only proper to sanction them more severely, not just with a fine but also deportation."

Dewa Nyoman Rai Dharmadi
Apology issued – but is this enough?
After both having a passport seized, Leia and Josh have since posted another video. This time, an apology. In the video, their legal team is present. They tell viewers that their intention was purely for entertainment and not to discourage mask-wearing or disrespect the mask-wearing rules [1]. It turns out, if caught without a mask, foreign nationals are subject to a fine of up to IDR1 million (US$68.76). The second offense will lead to deportation [3].
Advertisement
"The intention to make this video was not at all to disrespect or to invite everyone to not wear a mask. I made this video to entertain people because I'm a content creator and it is my job to entertain people. However, I did not realize that what I did could actually bring a lot of negative comments … and that it raises a lot of concerns."

Josh Paler Lin
Advertisement
Josh went on to plead that nobody should ever not wear their mask out in public.
Advertisement
"I did not realize that what I did could… raise a lot of concerns. Once again we want to apologize for what we did and we promise not to do it again. Always wear a mask for our own safety and health [and] so we can help Bali to gain its tourism again."

Josh Paler Lin
Keep Reading: Influencer Brags About Her Easy Life In Bali On Twitter, She Gets Deported Over It
Advertisement
Sources
"Why two glamorous pranksters face deportation from Bali after they snuck into a local market with a face mask they DREW on themselves." Daily Mail. Tita Smith, Bryant Heves. April 28, 2021.
"Viral Video: Insta Influencer Slammed For Painting Mask On Face To Enter Bali Store." NDTV. Sanya Jain. April 27, 2021.
"Authorities seize passport, mull possible deportation of 2 influencers over face paint mask prank in Bali." Bali Coconuts. April 22, 2021.