Twins. One of nature's extraordinary occurrences! But, did you know that there are actually different kinds of twins? Not all sets of twins are identical. Those who are not are called Fraternal twins. According to the Oxford dictionary, the definition of a Fraternal twin is: "Either of a pair of twins who, as a result of developing from separately fertilized ova, are genetically distinct and not necessarily of the same sex or more similar in appearance than other siblings."
For these sisters, they spent 30 years of their lives believing that they were not identical siblings. Their mother was told this when she was pregnant with the pair. What is more is that around two and a half years after their birth, their parents had another set of fraternal twins! This time, brothers! This meant that Clare and Jessie Stephens and their brothers Nick and Jack were all under the age of four. Imagine having not one but two sets of twins of that age?
Identical or Fraternal Twins?
Jessie and Clare started to think that perhaps they were not fraternal twins after all. This came after someone commented on the Facebook Group, Mamamia Outlouders. Soon, the conversation was a hot topic. Even their mother joined in and commented, saying that she would know she was there! They are not identical twins. It did not take long for those interested in the conversation to suggest they take a DNA test.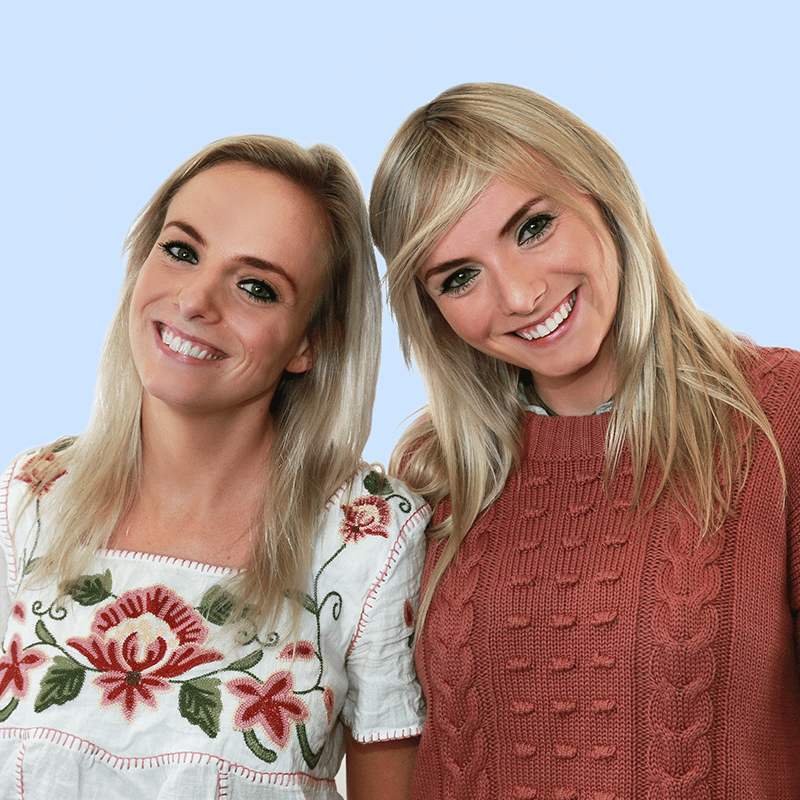 The pair were referred to Easy DNA. And so, they decided to go ahead and try the test.
"So off we went. Without reading any of the terms and conditions or thinking about cloning/privacy, we swabbed the inside of our cheeks and sent our DNA to strangers on the other end of a prepaid envelope. Then we waited. And waited. We hypothesized what life would be like if we were identical twins. And tried to make bets with Dad so we'd make some money. Then we waited some more. OK, it was only a few days, but it felt like a long time because our identity was on the line?"

mamamia.com
What were the results?
After waiting for what seemed like a life time, the sisters finally got the email they had been anticipating.
"Based upon the DNA analysis Jessie Stephens and Clare Stephens are identical twins. The probability of Monozygosity is 99.999999995381%."

Oh what the f**k. OUR WHOLE LIFE HAS BEEN A LIE AND WE BLAME MUM BUT SHE BLAMES THE MEDICAL PROFESSION WHO IN THEIR DEFENCE WERE DOING THEIR BEST WITH THE INFORMATION THEY HAD AT THE TIME.

mamamia.com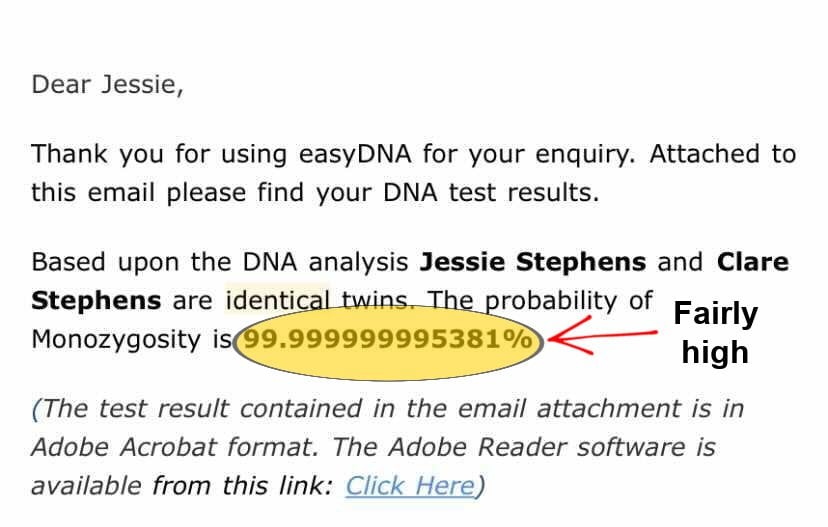 So, turns out, they are not fraternal twins
Imagine spending 30 years of your life thinking that your twin was not identical to you? Although in these sisters instance, it is rather obvious just by looking at them! The irony is, they now believe their fraternal twin brothers might just be identical too! They also happen to look eerily similar!
For more weird twin stuff, you can follow The Twins Thoughts on Instagram (@thetwins_thoughts) or Facebook (Clare and Jessie Stephens).
Sources:
"We lived 30 years as fraternal twins. Then, two weeks ago, we took a test." Mamamia