When it comes to nature and the environment, we all have our own thoughts and views about what our role is. Some of us just have a way of connecting with animals and in a way that protects them without getting in their way. In St Ives, England, Rob Adamson is one such nature lover whose awareness seems to have finally paid off. At Jones Boatyard where he lives and works, Rob has watched for nearly 10 years as a swan's eggs are repeatedly pillaged by foxes or taken by floods. When the Great Ouse river began to flood again this year, he just couldn't allow it to happen again. Rob decided to take matters into his own hands quite literally and save the swan's eggs from the rising water. As it happens, his gesture was very well received by the pair of swans.
He somehow felt responsible
After all those years, Rob felt sympathy for the mother swan's eggs. "She is the unluckiest swan; I needed to make sure they survived." He knew to leave wildlife alone, but somehow he felt compelled this time. "You're not supposed to interfere, but it had got to the point where they were all going to die," he admitted. The thought bothered him. "I couldn't go to bed knowing that," Rob revealed. "I knew I would regret it if I didn't do anything to save them." Luckily the swans weren't hostile when Rob approached; he said that "the dad was watching too, but neither of them attacked me." He continued, saying, "I think they knew it was their best chance."

Rob Adamson, BBC News
Read: World's oldest known wild bird has another chick at age of 70
Advertisement
42-year-old Rob Adamson lives on a narrowboat off the Great Ouse. Late one night, he saw that the water had risen high and was getting steadily closer to where the swan's nest was. So without wasting more time, he stepped in with a raft he quickly put together in the dark. Rob then somehow managed to transfer the resting mother swan and all 9 of the swan's eggs onto this more stable platform he had built. The raft even had a length of rope attached, so it could be moved if necessary. What was astounding is that the pair of swans welcomed this intervention from Rob without any hostility. Swans are known to be territorial and protective when nesting, so it's interesting that they trusted him and didn't see him as a threat.
Advertisement
"The swan man" saved the day
In the past, Rob, who soon become known to locals as "the swan man," had raised a stray cygnet he called Sid. He developed a special bond with Sid, saying, "After Sid, I've got a special place in my heart for swans." Rob said he'd "been watching this pair fail for the last 10 years." He felt protective of them, saying that "I knocked up a fence to keep the foxes out." Rob was adamant, saying, "I just really want them to make it this time." He expects the swan's eggs will hatch soon and felt a sense of belonging watching over the swans. "This is why I am here, living on the water. I'm in dreamland with all the wildlife," said Rob. He felt complete and freely admitted, "I wouldn't swap my boat for a £10m house."

Rob Adamson, BBC News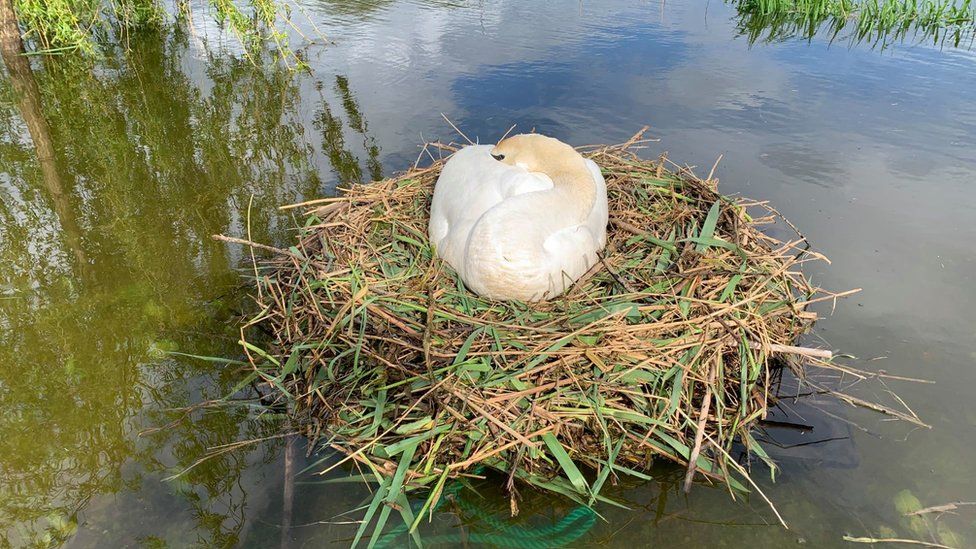 Rob's efforts were appreciated by locals in the area, who were also taken by surprise at the Great Ouse's rising water levels. The Jones Boatyard expressed their gratitude on Facebook and commended his actions. It takes a certain level of awareness to look out for others in times of crisis, and Rob showed that a small act of kindness can make a big impact on the lives of animals. His bond with Sid the cygnet and the way he protected the swan's eggs is certainly something we can all admire.
Advertisement
Keep Reading: Feed Ducks Frozen Peas, Not Bread, Wildlife Organization Urges
Advertisement
Sources:
"St Ives: Man builds raft to save 'unluckiest' swan and eggs." BBC News. May 18, 2021
"'Unluckiest Swan' Becomes a Mom After Crafty Raft Rescue From Rising Waters." Good News Network. May 21, 2021
Jones Boatyard. Facebook. May 17, 2021