Human beings can be incredibly mean to one another. Children and teens are often the cruelest. The Everett family of Australia has been speaking out against bullying since 2018 when their daughter Dolly took her own life at just 14 years old. They, along with grieving parents all over Australia and the world, say that more needs to be done to prevent tragedies like this from happening.
The Tragic Loss of Dolly Everett
Dolly's family describes her as a funny, happy girl. She loved playing sports and she loved working on the ranch where she grew up in the Northern Territory of Australia. She was also moderately famous. According to News.com.au at only 6 years old, she became the face of Akubra hat – the iconic Australian hat. (1)
When she and her sister Meg reached high school age, their parents discussed with them that they would have better educational opportunities at boarding school. They lived on a remote cattle ranch, so going to boarding school in Queensland would provide them with more social, extracurricular, and educational opportunities. With that, the two went off to Scots PGC College in Warwick, Queensland.
Though a bit homesick at first, the sisters settled in quickly and found activities that they enjoyed. Dolly fell in love with sports and she was really good at many of them. Not long into the first term, however, things began to change. Then 12-year-old Dolly told her mom Kate that the boys at school were bullying her.
"She told me that boys were calling her a slut, she was 12," said Kate. "I don't know whether 12 year olds even know what that means, they shouldn't. I used to tell her: 'It will get better, you'll fit in. Everybody's trying to fit in and they're just working out their pecking order. Try not to be mean'."
Kate called the school to make sure they knew. She wanted to know what they were going to do about it, but she says they didn't seem to take Kate's concerns seriously.
Retaliation
The bullying only continued to get worse. One boy, in particular, taunted and pushed her out on the playground. Dolly finally had had enough and turned around and clocked the boy. The school then suspended her.
"Dolly probably shouldn't have retaliated the way she did, but for Dolly then to become the person in the wrong and the other kid to be the victim … it doesn't make sense," said Dolly's father, Tick.
For a while after, things seemed to get better. Coaches selected Dolly for various sports teams and she was doing well in school. Now, however, Kate and Tick are wondering if perhaps Dolly just wasn't telling them what was really going on.

In the second year, however, things got worse. The school called Dolly's parents explaining that she was in trouble. Apparently, a boy had convinced Dolly to take pictures of herself and send them to him. Getting in trouble at school, especially for something like this, was shocking for her parents. Later she got suspended again, this time for drinking.
"She started to withdraw slowly by the first term, and in her Year 9. In that last year, I just think, 'Oh god, she's just changing'. And as a parent, I guess you say, 'This is part of adolescence. Is this who she is?'," Kate said. "I think there was a whole bunch of stuff going on that we literally did not know about."
Kate says she kept on the school, but still, they did nothing.
Dolly Everett's Last Days
Dolly then sent a troubling email to her parents.
"How long do I have to stay? Can I please leave sooner?" the email said. "I started to panic because they were ganging up on me and I didn't want to fight so I walked away. And one of them started screaming at me calling me a dirty slut, b***h and screaming about how I should kill myself and to go cut some more."
They considered pulling her from school and also got her a counselor. Not long after she came home for summer holidays. They were preparing to take a quick family trip before the girls went back to school. Her last day was seemingly normal. She made them dinner, her favorite foods, and the family played cards. Both sisters went to bed, but then 30 minutes later Dolly's parents found her dead in her room. She had taken her own life.

Read: This Man Kept Calling His Loved Ones… Even Though He'd Been Dead For Hours
A Devastated Family
The night was long and incredibly sad for the family, who had to wait hours for emergency response to arrive due to their remote location. Tick put an emotional message on his Facebook page. In it, he invited those who bullied their daughter to come to her funeral. He said that way, they could see the devastation they caused first-hand.
"If by some chance the people who thought this was a joke and made themselves feel superior by the constant bullying and harassment see this post, please come to our service and witness the complete devastation you have created."

Tick Everett via BBC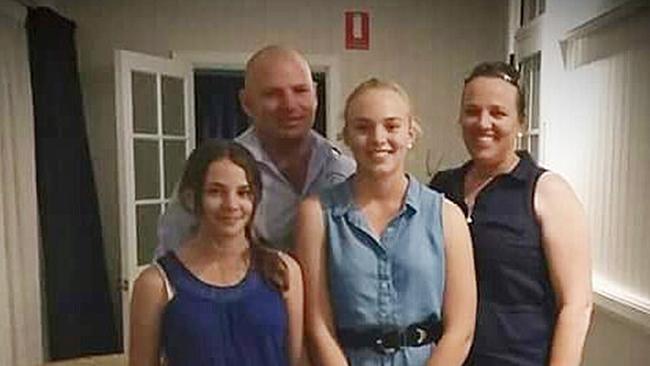 They launched a foundation in their daughter's name, Dolly's Dream, aimed at raising awareness about bullying to hopefully prevent more tragic tales such as this one. On their website and Facebook page, they provide advice to parents and lessons on how to prevent and deal with bullying.

Dolly's Dream does many events in Australia as part of their Do It For Dolly campaign. They have a special day every May called Do It For Dolly Day, where thousands of people come together not just to remember Dolly Everett, but to raise money and awareness to fight back against bullying. People participate in many different ways, including physical feats such as running marathons or other endeavors such as art auctions. (2)
Not Just An Australian Problem
As we know all-too-well, bullying is not just an Australian problem. It is a global problem, and the United States is not immune. Especially with more and more teens and children being active online, the instance of online bullying continues to rise. Currently, in America, the rate of teenage suicide continues to rise. Teen mental health stats show that nearly 20% of teenagers have thought about committing suicide and about 9% actually attempted it. Suicide is the second-biggest cause of death for people between the ages of 10 and 24 in the United States. (3, 4)

If you are a victim of bullying or are struggling with depression, anxiety, or having suicidal thoughts, talk to someone. You are not alone and there are people here to support and help you. Speak with a trusted adult. You can also call the Suicide Prevention Hotline, where there will always be someone to listen to you and who can help. (5)

Remember this: If you witness someone bullying someone else, speak up. Don't be a part of the problem, be a part of the solution. It could save a life.

Keep Reading: A 17-year-old boy died by suicide hours after being scammed. The FBI says it's part of a troubling increase in 'sextortion' cases
Sources