There's a good chance that you or someone you know has had to have stitches at some point in their life, whether because of an injury or as part of a surgical procedure. But have you ever stopped to ask yourself what those stitches are made of?

Stitches, or sutures, which is their medical term, can be made of a variety of materials depending on their purpose and placement, but soon your doctor may be able to stitch you up with yarn made from actual human skin.
Human Textile
Researchers at the French National Medical Institute of Health and Medical Research in Bordeaux have managed to create a "yarn" out of human skin cells that surgeons will be able to use to close wounds or put together implantable skin grafts [1,2].

"These human textiles offer a unique level of biocompatibility and represent a new generation of completely biological tissue-engineered products," said the researchers [2].
Advertisement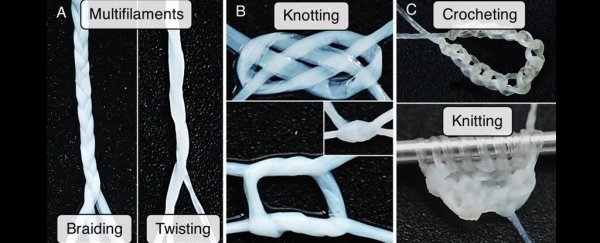 Nicholas L'Heureux, who leads the team, explained that this new material can be used in a variety of ways for a number of different purposes.
Advertisement
"We can sew pouches, create tubes, valves and perforated membranes," he said. "With the yarn, any textile approach is feasible: knitting, braiding, weaving, even crocheting." [3]
Advertisement
Read: Here's What It Might Be Like To Travel On A Double Decker Airplane Seat
Advertisement
What Material are Stitches Usually Made of?
Stitches can be made of a variety of materials, and your doctor will decide which type to use based on the physical and biological characteristics of the material in comparison to the healing process. There are two basic types of stitches, absorbable and non-absorbable [4].

Absorbable stitches are digested by tissue enzymes, and so will break down harmlessly in the body over time. For this reason, they do not need to be removed. Non-absorbable tissues, however, must be manually removed. Stitches that are to be used in a more stressful environment, like the heart or the bladder, require stronger, specialized materials that are usually non-absorbable to reduce the risk of degradation [4,5].