Salt Bae has made headlines once again, but this time it's more about pricing than seasoning.

If you have been on the internet for more than a month, you will have heard the name of Salt Bae. But, if you aren't familiar with the name, he's a viral internet sensation who became famous for the way he dramatically salted cooked meats.

In January 2017, Nusret Gökçe became known as Salt Bae after a video posted on his restaurant's Twitter account went viral. In that video, he sliced an Ottoman Steak and dropped salt onto his forearm before letting it sprinkle down. It racked up over 10 million views pretty quickly, and he has been known as Salt Bae ever since. Today, that video has nearly 17 million views.
The Turkish chef Nusret Gökçe, aka Salt Bae, has recently opened a chain of luxury steakhouse restaurants. Named Nusr-Et, these steakhouses are already established in New York, Dubai, and Mykonos. His latest opening was in London, where one customer's receipt is all anyone can talk about.
Advertisement
Is $50,000 Overpriced for a Steak Dinner?
According to a receipt posted to Reddit, which has since been removed from the r/London sub-Reddit, 4 people ended up with a massive bill. However, there is some debate as to whether or not the meal was really that expensive.
Advertisement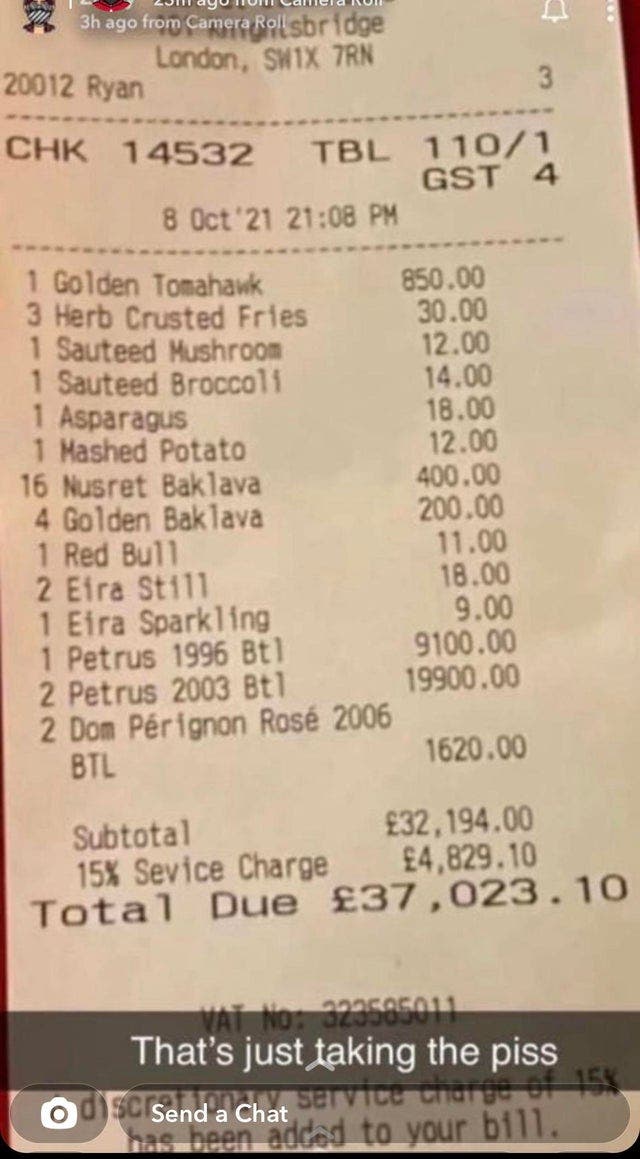 Seemingly, the table of four split a gold-leaf covered Tomahawk steak, a selection of sides, and several bottles of high-priced wine. Luxury restaurants have special items on the menu which are specifically created to be expensive and elaborate. Considering this cut of meat is the same one that made Salt Bae famous, and it's encrusted in gold leaf, is £850 too much? Some folks on the Reddit thread shared their thoughts about this likely being a PR stunt, but others were convinced this was just an expensive round of drinks.
Advertisement
"3 bottles of petrus and a gold tomahawk steak. Legit think someone was on a mission to get a riduculous receipt here." – Conditions21

"This was all for publicity. Reverse google image search the image and you'll see a ton of articles about this reddit thread along with a viral twitter thread, all of them glowingly reviewing the restaurant as well as its owner while referencing comments from this post in between compliments, most of the comments highlighting that the food wasn't actually that expensive and it's the alcohol that cost so much. Pretty good marketing strategy in all honesty." -podesta

"You spent total £1536 on food which before you add the other drinks is less than the two bottles of rose for £1620. That's close to only 4% of the total bill for your 'meal' at a 'restaurant', so really this is a receipt of a £30,000+ bar tab…. Plus nibbles." –TheLubberkin
Read: Server gets $2k tip, but restaurant says it can't process a tip that big
Advertisement
If we break it down,…
The meal wasn't outrageously priced. However, the £30k in wine certainly contributed to the 15% service fee of almost £5k. The grand total looks ridiculous and expensive, but where were most of that coming from? The alcohol. Not the meal.
Advertisement
Salt Bae Plays the Game Well
One of five children, Nusret was raised in an impoverished village in Istanbul. After being forced to leave school at a young age and get a job, he fell into butchery. At age 13 he became a butcher's apprentice and worked long hours in several Turkish steakhouses. He did this for the next ten years. All of this was in hopes of opening his own restaurant one day in the States.
Advertisement
"In 2010, he opened the first Nusr-Et steakhouse in Istanbul with just eight tables and 10 employees. He met with Turkish businessman Ferit Sahenk, who was so impressed with his meal at the restaurant he offered to invest. Nusr-et opened various locations in the Middle East including Ankara, Doha and Dubai."

The Sun
Salt Bae became internet famous and used that fame to boost sales for his restaurants. He did what most of us would have done if we were in the same situation. Following his dreams, becoming a chef and owner of several luxury restaurants, Salt Bae might even be considered an inspiration. Don't you think so?

Keep Reading: Hooters employees condemn company's new uniform
Advertisement
Sources
Advertisement
Attention: While many of these stories are interesting, and we would love to take their word for it, the content in this article was taken from an unverifiable source (i.e., a Reddit forum). As such, we cannot guarantee that these events truly happened in the way that they are described in the original source.
Advertisement