There's glamping, and then there's this. A team of 22 Dutch university students recently completed a 1,800-mile Eurotrip in a solar-powered campervan they designed themselves. Their question? If a group of university students can make something like this, why can't big companies? (1)
Students Complete Eurotrip InSolar-Powered Camper Van
The team of students set off on their month-long adventure on September 19 with the goal of proving that solar power technology is sufficient. The Eurotrip started in Eindhoven in the Netherlands and ended in Tarifa, Spain. They want to help speed up the world's transition to a more sustainable future. (2)
Advertisement
"To accelerate this transition we are going to inspire as many people in Europe as possible for the sustainable future during our journey," student team manager Kjell Revenberg said.
The van, named Stella Vita, is not the university's first solar-powered vehicle. The students built it as a self-challenge to demonstrate the power of solar energy. Normally they would do so as a part of the biennial Australian Bridgestone World Solar Challenge, however, there was no competition this year. They decided to go ahead and challenge themselves, anyway.
Advertisement
Read: Power Above, Berries Below: Farmers Reap Double Benefits With Solar Power in Fields
Advertisement
The Stella Vita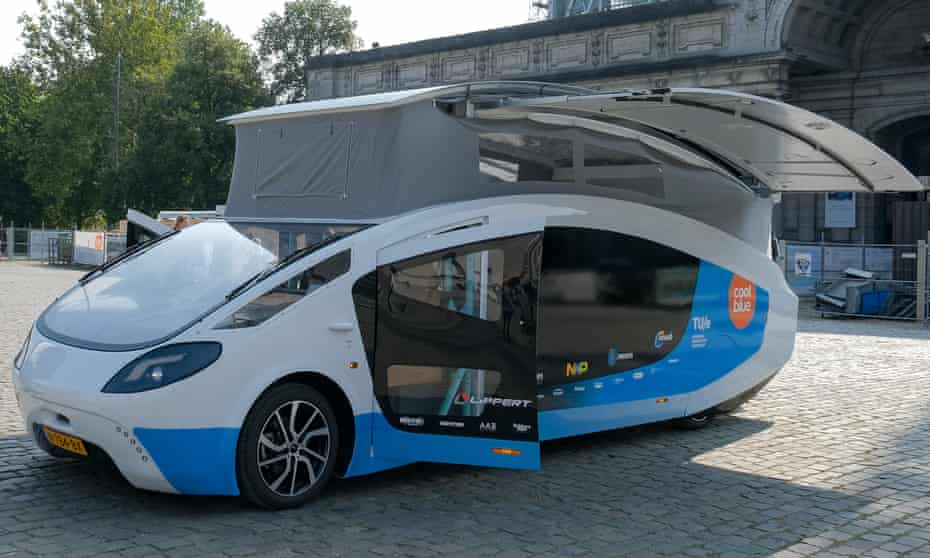 The Stella Vita is a two-passenger fully-equipped campervan. It has a kitchen, sitting area, bed, shower, and toilet. The roof is equipped with solar panels that can expand when the vehicle is parked. As a backup, it has electrical charging ports.
Advertisement
Stella Vita can travel up to 450 miles on sunny days with a top speed of 75 miles per hour. Solar power also powers everything inside the van, including a TV and laptops. On a cloudy day, it can still produce 60% to 70% of the energy. Even with no sun at all, it is still an efficient electric vehicle.
Advertisement
The Eurotrip
The solar-powered Eurotrip wasn't all sunshine and roses. In fact, right at the beginning, they had problems with the drive-train. The vehicle had to be carried from Eindhoven to Brussels and then to Paris. A quick test drive in Paris and Stella Vita was ready to hit the road once more. (3)
Advertisement
More than just a campervan, Stella Vita is a fully self-sustaining house on wheels. This makes it perfect for the #vanlife that everyone has been clambering to do since the start of the pandemic. The difference with this one is that you can road trip to your heart's delight without causing damage to the environment like a regular van like this would.
Advertisement
Read: Tiny smart home looks like a space ship and can sleep a family of 4 — see inside
Advertisement
The Goal
As already mentioned, the Eindhoven Solar Team wants to change the way people road trip and speed up the transition to a solar-powered society. They want to challenge how people think of solar technology and demonstrate just how far it can go. Finally, they want to challenge companies to think bigger when it comes to designing solar-powered products.
Advertisement
"The technology is there, we just have to change the way we think," said 20-year-old Tijn ter Horst, one of the Eindhoven University of Technology students onboard. "If 22 students can design and build a vehicle like this in one year, then I'm sure companies could as well."
They have certainly proven the power of solar technology with this month-long road trip. On top of that, it was not just a regular car, but a full-on moving house. The vehicle was able to heat water for showers, provide energy for cooking, charge phones and laptops, and watch TV – all while still driving for hundreds of miles each day. Clearly, we are more prepared, capable, and ready for solar power than we thought. Hopefully, more companies will follow these students' example. We can't wait to see what they do next!
Keep Reading: This Solar-Powered RV Runs Without Fuel Or Charging Stations
Sources
"Presenting our newest solar-vehicle: Stella Vita!." Solar Team in Hoven
"Students' solar-powered camper van turns heads on 1,800-mile road trip." The Guardian. Weronika Strzyżyńska. October 15, 2021.
"Van Life 2.0: Dutch students' road trip in solar mobile home." ABC News. Mike Corder. September 24, 2021.